The Migration Period, also known as the period of the Barbarian Invasions or of the Völkerwanderung ("migration of peoples" in German), was a period of intensified human migration in Europe running from about 376 to 800 AD. Germanic tribes had already started moving out of southern Scandinavia and Germany to the adjacent lands between the Elbe and Oder since 1000 BC. The first wave moved westward and southward (pushing the resident Celts west to the Rhine by about 200 BC) and moving into southern Germany up to the Roman province of Gaul by 100 BC, where they were stopped by Gaius Marius. It is this western group which was described by the Roman historian Tacitus (56–117 AD) and Julius Caesar (100–44 BC). A later wave of Germanic tribes migrated eastward and southward from Scandinavia between 600 and 300 BC; they included lesser known tribes such as the Tencteri, Cherusci, Hermunduri and Chatti. From about AD 166 until 180 the wars against Germanic Marcomanni and Quadi occupied the major part of the reign of Roman emperor Marcus Aurelius. After a long period of federation and intermarriage all these tribes ended up mixed and grouped into the more familiar groups we know as the Alamanni, Franks, Saxons, Frisians and Thuringians. For this reason these figures are perfect for Early Visigothic, Vandal, Burgundi, Limigantes, Gepid, Frankish, Alamanni, Quadi, Suevi, Rugian Or Turcilingi, Saxon and all others Germanic Tribes between 150 to 450 AD and also as the light troop types for early Ostrogothic, Herul, Sciri or Taifali.

Below you'll find also more heavily armed figures suitable for the later half of the Migration Period, expending the range beyond the end of the Ostrogothic (553 AD) and Visigothic kingdom (711 AD)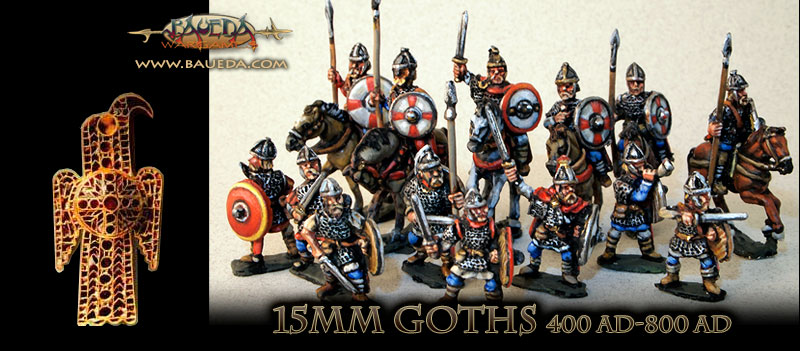 This range has been sculpted by M. Campagna and currently cover all core troops, but we plan to expand it even further very soon with the addition of a pack of dedicated archers.

Separate horses are provided at random out of nearly a dozen different poses to maximize variation!
Who were the Germans? Find out more in this video!