Code: 28616CB
28mm round scenic base (1 x 25mm round hole)

Another forest foxhole scene featuring an old fallen tree and the root system for a new young one growing nearby, perfect as a base to mount your own tree on!
It is designed to match perfectly with our range of 28mm log entrenchments.
Cast in tough polyurethane in a single 60mm wide round piece and ready to use, this exquisitely detailed model is perfect also as a mini diorama or a display base thanks to the 25mm round hole inside!
Supplied unpainted.


---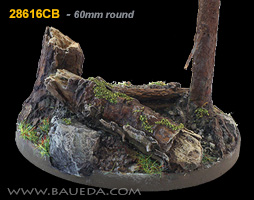 Click on the image above for a larger picture!