Code: 15A44CB

Vf67 Tobruk für Kampfwagenturm (with pzkpfw II & pzkpfw 38T turrets).
The Vf67 was a larger version of the Vf58 tobruk bunker (still fits on a Fow-size medium base anyway, just!) that was used for bigger tank turrets. There are two different ones to choose from included in this kit: the early war panzer II and one from the ČKD LT vz. 38, a Chzeck light tank adopted by Nazi Germany as Pz. 38(t) following annexation. Production ended in 1942, when its main armament was deemed inadequate. The chassis of the Pz. 38(t) continued to be produced for the Marder III until 1944, while the old turrets were commonly re-used on static fortifications.The VF (Verstärkt Feldmäßig) was a series of light bunkers with walls between one and two meters thick and no airtight seal or ventilation. This model is a very accurate scale reproduction and has plenty of beautifully sculpted surface detail to help you in painting.
Like all other models in this range it is made of tough POLYURETHANE; the roof is a separate piece which can be left loose to be removed and allow access to the interior, or glued in place. Overall size is 44x28mm and the height is 34mm to the top of the turret.
This bunker body comes in two parts with full interior plus a separate armored door, and can be fitted with either of the two turrets provided.
Require assembly. Supplied unpainted.

Click here for shipping charges


---

---

On to Scenic Bases!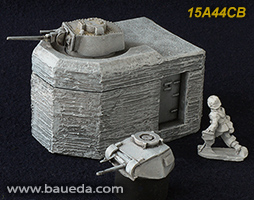 Master Model by C. Berni
Painted by C.Berni